Title Register Analysis and risk score software for conveyancing firms
Instantly identify red flags and reduce risk in property transactions
Veya's complexity score and insights provide an instant snapshot so you can identify potential issues and assess risk at the outset of a property transaction.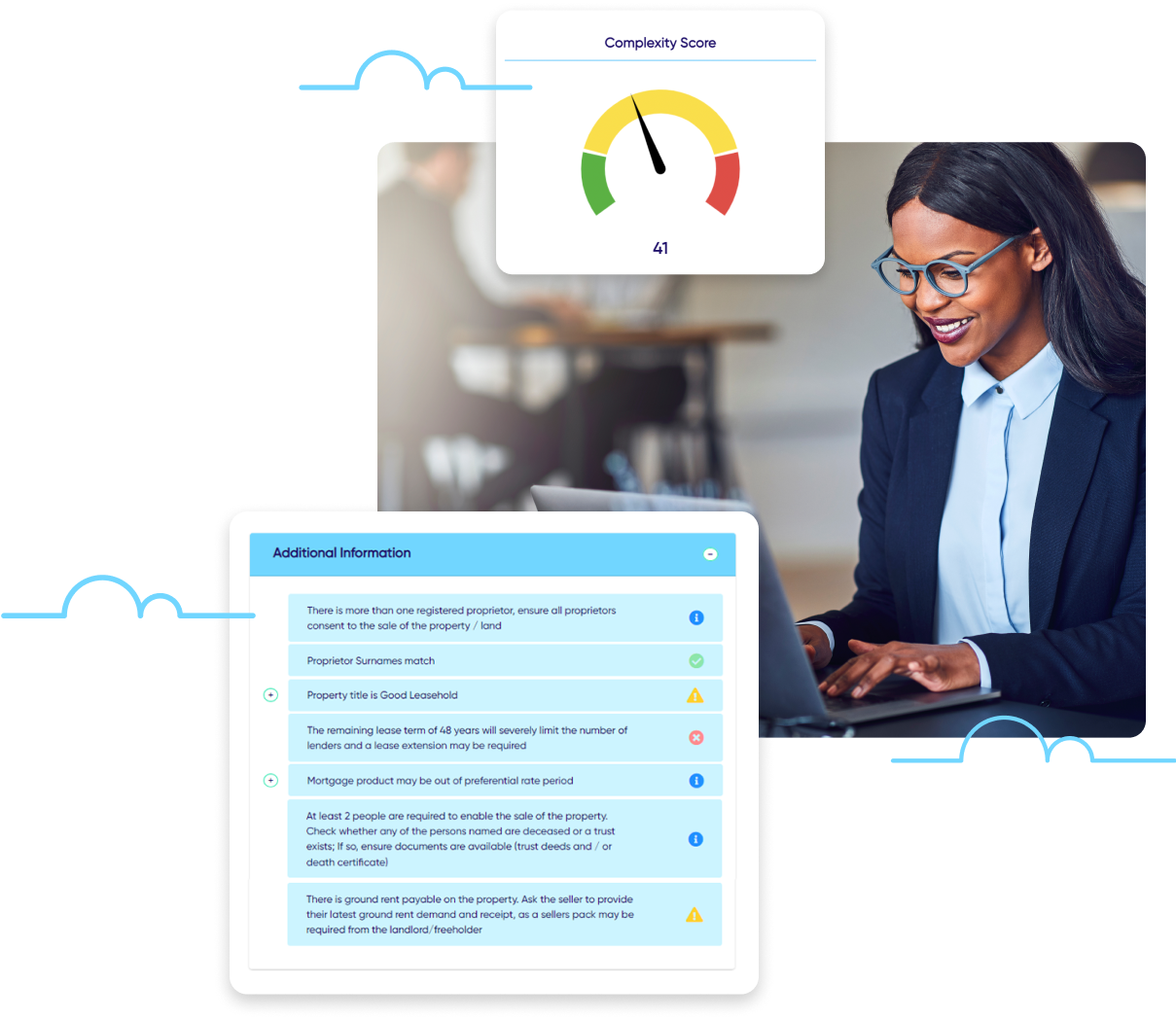 The platform that aligns with your risk policies and procedures
Speed up the process
Speed up the process
Reduce the time spent wading through paperwork as Veya instantly checks hundreds of data points and scenarios on the Title Register.
Reduce the risk of fraud
Reduce the risk of fraud
At the touch of a button, Veya will red flag any risks, suggest solutions and quickly assess the complexity of a case.
Allocate work
Allocate work
Use Veya's complexity score to help allocate work to the team member who has the most suitable expertise and experience.
Compliance
Compliance
Use Veya to demonstrate your processes for identifying and managing risk during quality assessments such as The Law Society's Conveyancing Quality Scheme, Lexcel and in discussions with insurers.
Set expectations
Set expectations
Veya's instant register score is a useful visual tool to explain complexities to clients and estate agents and help manage expectations early on.
Training
Training
Veya's top-level snapshot can be shared with junior conveyancers as a 'real-life' training tool when assessing a case for complexity or risk.
What's included in the Veya Report?
1
Property Complexity Score
Veya's complexity score gives a rating between 1-100 to give you an idea of the level of complexity and risk you're dealing with. The score is calculated by an algorithm that analyses the Title Register. It considers the 'property vitals' as well as hundreds of scenarios that could impact the property in question.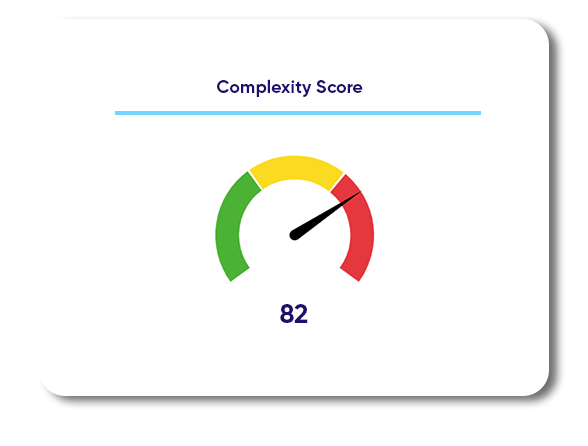 2
Property Vitals
Property vitals including tenure, title class and first registration date can be viewed in the Veya Report dashboard. Plus, further information around any charges and restrictions identified can be read in detail.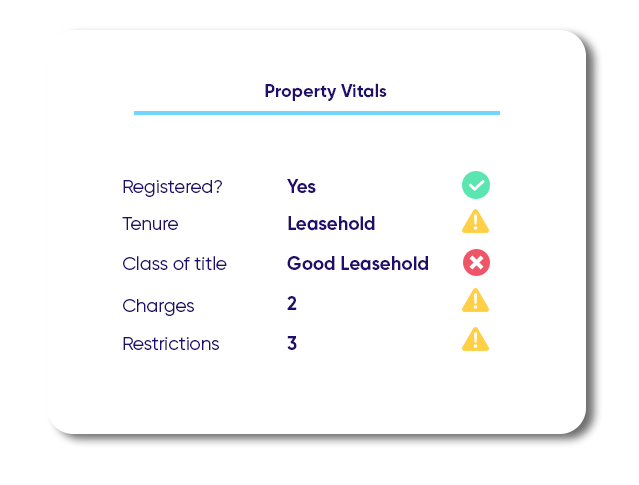 3
Proprietorship details
The legal owners named on the Title Register are displayed on the dashboard. Any issues are flagged for your attention, such as multiple vendors with different surnames or addresses. If you wish, you can initiate secure, digital ID&V checks against the individuals listed to check off your customer due diligence requirements.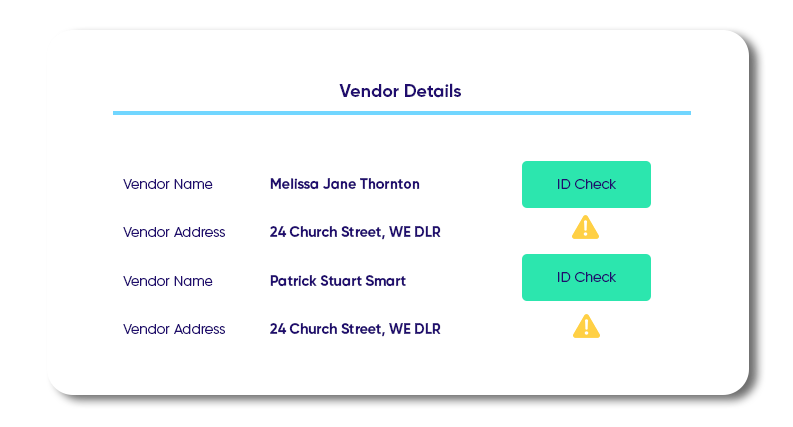 4
Title insights and solutions
A detailed analysis is provided, highlighting any title information to take note of. Where possible, solutions are suggested against issues raised in the title.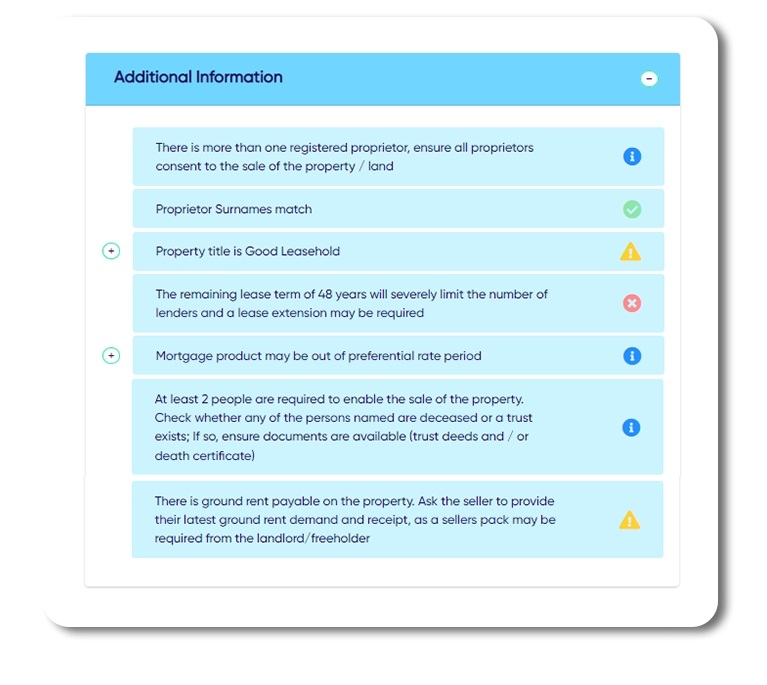 5
Land Registry OC1 and OC2 documents
The Land Registry Title Register is included with the Veya Report, and the Title Plan can be added on if required. Further research is just a click away with the related OC2 documents listed and available to purchase. All the documents can be downloaded as PDF files, including a downloadable version of the Veya Report, all within our user-friendly software for conveyancers.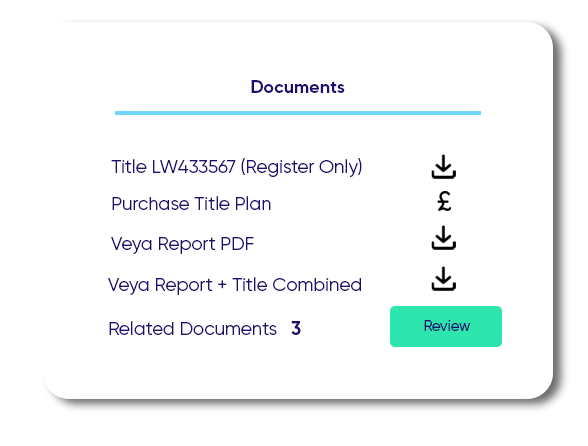 What our customers say…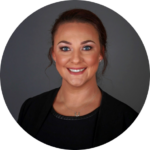 "

"By leveraging Veya's complexity score, we are able to allocate cases to conveyancers based on their level of experience, ensuring a balanced workload and avoiding burnout. This not only enhances efficiency but also prioritises the well-being of our staff. Additionally, Veya's comprehensive tools have revolutionised our training process, empowering support staff to identify and address key 'red flags' in titles."
Natalie Moore
Aconveyancing

"

"Using Veya has reduced the average time it takes us to sell a property from 14 weeks to 9 weeks which is amazing. Veya provides key insights that are also helping us win more instructions through it's simple to understand report."
Emily Bancroft
LL Estates
Conveyancing Software FAQs
What's included with Veya?

With Veya you get access to our user-friendly platform where you can access our unique title insights and Land Registry documents. You will be able to generate new Veya Reports against new cases and review your archive of reports whenever you need them. Getting started is simple. Our onboarding is free of charge and takes about one hour to complete. We are always on hand if you have any questions or require additional customer support. With Veya you only pay for the reports you generate. We offer simple payment options with monthly billing and itemised invoicing. With our flexible terms you don't need to worry about being tied down. Veya is accessible via a web-based application. If you have more bespoke requirements, you can tap into Veya via API.
What is conveyancing software?

When it comes to conveyancing software, there are a few different types that conveyancers can use to help manage their cases. One type is case management systems, which are designed to help keep track of all the different aspects of a case, from client information to case notes and documents. Another type of software is conveyancing legal software, which is specifically designed for managing the legal aspects of a case, such as searches and contracts. Veya's title deed tool for conveyancers is completely new and innovative software designed to help streamline the conveyancing process. Veya is particularly useful during the client onboarding process, helping with case allocation, accurate fee quotation and accessing Land Registry documents. All of the types of software can be very helpful in managing a conveyancing case, and choosing the right type of software will depend on the specific needs of the conveyancer.
What are the benefits of conveyancing software?

Conveyancing software helps solicitors and conveyancers to manage the legal process of transferring property ownership from one person to another. There are many benefits of using conveyancing software. A key aspect is that it helps to ensure that all the necessary steps are taken in order to complete the conveyancing process correctly. In relation to Veya's software for conveyancers, the unique data analysis provided on Land Registry Title Deeds can help conveyancing firms to efficiently triage cases to the appropriate team members. It can also help conveyancers make accurate client fee quotations and be used as a checklist for conveyancers to begin processing cases. This can save a lot of time and money, as well as preventing potential problems further down the line. In addition, software can help to speed up the conveyancing process, as it automates many of the tasks that would otherwise need to be carried out manually. Conveyancing software has several advantages for those involved in property transactions. The software makes the process easier to manage and helps to protect against potential mistakes. As a result, it is likely that an increasing number of solicitors and conveyancers will start to use a variety of conveyancing software within their firms.
How much does Veya's Conveyancing Software cost?

Each Veya Report is charged at a flat rate on a pay as you go basis which includes the official Land Registry Title Register. We also have an option to add on the Title Plan and you can purchase related OC2 documents on the platform too. We offer volume discounts for our bespoke conveyancing software packages for medium and large conveyancing firms and can integrate into your system seamlessly via our API. Get in touch with us or book a demo to receive a quote. We offer various levels of AML checks starting from a basic ID check, up to an HMLR grade check. Our integrated AML is optional, so you do not need to worry if you have an existing provider that you want to stick with. It does not affect your usage of the platform at all.