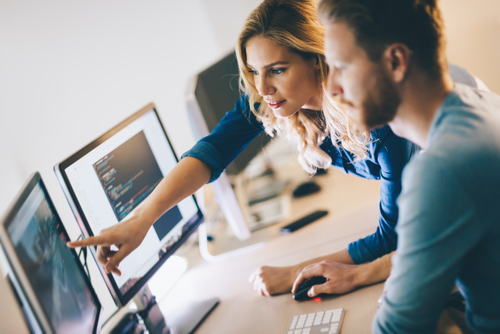 Benefits of Using Case Management Software for Conveyancers 
Modern conveyancers have a lot to manage, which is why case management software is a valuable solution that can save you time and effort while improving efficiencies and standards of service.
Legal software providers do charge a fee for their services, but this investment will reap the rewards for conveyancers looking to scale up their practices and set themselves apart from their competition.
Here are some of the main benefits of using a legal case management software for your conveyancing firm and why every modern conveyancer needs one.
What Does Case Management Software Do?
Case management software is an all-in-one tool designed to make managing your caseload more efficient. These solutions are designed to keep all your documents in one place and help guide you through the process of supporting your clients. Case management software is known by many names, including legal matter management solutions, case management systems, and more.
Effectively, all these tools combine your legal billing software and legal accounts software with your communication and contact management solutions. The result is a comprehensive suite of fully integrated tools that will increase productivity and make conveyancing more streamlined for you, your law firm and your clients.
Conveyancing practice management software solutions can keep all your communications, financial details, title deeds and more in one place.
Why Do Conveyancers Need Case Management Software?
Conveyancers need case management software to manage their workloads and streamline their operations while still giving clients the personal service they expect. Managing all your cases manually can be time-consuming, and there's an increased chance of human error. With a digital case management solution, you'll have everything you need for each case in one place, and you can reduce the errors you make, improve the clarity of your communication and more.
Every conveyancer needs exceptional collaboration tools, including case management software, if they want to exceed client expectations and grow their law firm. In the fast-paced legal industry, you need to set your conveyancing business apart from the rest, and using a data management tool can make your practice stand out.
These are some of the benefits of using a case management product for conveyancers looking to improve their service offerings and manage their cases more efficiently.
With that in mind, you need to make sure that you are able to offer your customers the high level of service they expect while managing even more cases than ever before. Additionally, many law firms are shedding administration staff and expecting their lawyers to take on more basic tasks in addition to their caseloads.
By using a case management tool, you can save time and ensure that you have access to everything you need in one place.
Improve Internal and External Communication
Communication is the key to any solid lawyer/ client relationship. Your clients want to feel reassured that you'll be there to answer their questions when they need you, and you need to make sure that you've sent them everything they need to complete and given them all the relevant information.
With law practice management software, you can see every communication you've ever had with your client and with third-party vendors such as their estate agent and the seller's solicitor. That means you'll never miss anything, and you can always check if you're worried that you forgot to send some important documents.
As well as external communication, legal case management solutions for conveyancers help you to improve your internal collaboration. With cloud-based document management, your practice can find and manage documents and files in a more effective manner.
Conveyancers can manage their cases easily and see what other departments, such as billing, have said to their clients. If a client says they can't find an invoice or email, you can instantly open it in your case management solution and resend the relevant files.
Improved communication throughout the conveyancing process makes everything run smoothly and means that you can save time by avoiding miscommunications and delays. For many conveyancers who use legal case management software, the tool saves them days or even weeks between initial client onboarding and completion of their sale. This time is valuable to both clients and their solicitors and can make homebuyers more inclined to use your law firm again for other services and home purchases.
Stay Compliant with Relevant Regulations
Conveyancers have to stay compliant with relevant regulations, including the UK's anti-money laundering laws. The laws are designed to stop criminals from buying property to distribute ill-gotten cash. These rules are a vital part of conveyancing, and conveyancers need to make sure that they conduct due diligence when helping a client to purchase a property.
Some legal practice management software providers offer digital AML for conveyancers within their platform. This will typically include secure ID verification and source of funds checks. As such, you can check that your client is who they say they are and that they acquired the funds to pay for their new property legitimately. You'll then be able to prove that you conducted a comprehensive check before you undertook the project in the event of an audit.
Alongside anti-money laundering laws, all legal practices have to be aware of cybersecurity and data protection laws, such as GDPR. Using a case management software tool means that you can keep your communications and information in one secure online location, so if you need to prove that you're compliant with relevant cybersecurity regulations, you can do so quickly and easily.
All The Information You Need In One Place
Using a case management tool keeps everything you need in one place, making this strategy ideal for UK law firms seeking a way to streamline their conveyancing operations. Some of these tools are integrated with the UK Land Registry and other relevant property information providers, so you won't have to review multiple websites to find everything you need.
All the information is in one place, alongside your customer contacts, financial details and more, so you have everything you need at your fingertips. If you need to check details or resend a communication, you can easily find everything you need using a case management tool. You'll be able to see what other internal departments, such as accounting and billing, have sent to your clients, meaning you'll get a complete overview of what's going on with each case.
For fee earners, case management tools offer time-saving support and will mean that all your data is in one place. If you have to hand your case over to someone else for a time for any reason, they can see everything relating to the case and quickly get up to speed.
Your customers can also access their documents and complete tasks through their mobile phone or another internet-enabled device, offering them the ultimate convenience. The result is a hassle-free home buying process for your clients, which will keep them coming back to work with your legal practice.
In addition, time recording capabilities make it simple to track and charge for the work you do, no matter what area of law.
Most case management tools are simple and easy to set up, so that you can get started quickly and make the most of your new solution. Most case management systems are designed to be intuitive, so you'll naturally be able to find out where your data is and how you can make the most of it.
If you're not very tech savvy, or you simply don't understand something, then most case management tools have on-site tech support, so you can easily learn how to use your new case management software. Many tools are also integrated with other solutions, such as Microsoft 365, so you can instantly upload all your contacts, past communications and more, saving you the time it would take to input all that information manually.
So, you can quickly set up your new case management software and start making it work for your legal practice.
Veya is an innovative new tool for conveyancers designed to improve compliance for law firms and save time by automatically generating a title report providing unique insights from a single search. Linked to the UK Land Registry, the software can instantly generate a report and then suggest actions to help conveyancers to make the process swift and straightforward.
In addition, every Veya Report produces a property complexity score that gives an indication of the property's complexity and risk. This rating can be used to triage cases to the appropriate team members, saving time on client onboarding.