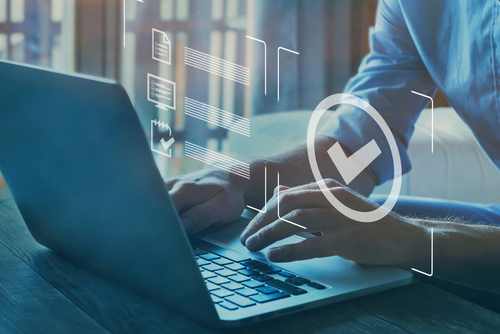 The Legal Software Companies of 2022 That Conveyancers Need to Know About 
Technology has improved almost every aspect of our personal and professional lives, saving us time while improving our performance and ability to undertake multiple tasks at the same time. For conveyancers, legal software companies have made it easier for practices to manage their workloads and improve their service to customers.
In this article, we explore the legal software companies of 2022 from case management software to legal compliance tools for conveyancers and how their tools could help you offer the best possible service moving forward.
What Is Legal Software?
Legal software refers to legal technology that can be used by law firms to manage their workloads, communicate with clients and more. The most common type of legal software for conveyancers is case management software, sometimes known as practice management software. These software platforms allow conveyancers to store all their customer information in one place and instantly access details on their case. Alongside case management software, there's also a range of other legal software products out there for law firms including tools that generate automatic title reports and more. Here are some of the best legal software companies of 2022 that conveyancers need to consider.
Veya- Best software for conveyancers
Veya offers a new solution for conveyancers that will help conveyancers to simplify title checking, make it easier to review land registry details and generate a title report on their behalf that they can use to streamline processes. Veya's software also offers anti-money laundering capabilities so that conveyancers can improve their compliance and ensure that they aren't complicit in any illegal activities. The company operates exclusively in the property market, so conveyancers can get access to solutions that are tailored to their industry. Its innovative title deed insights are incredibly useful for saving time on title checking and onboarding new clients. 
InCase – Best software for client experience
InCase is a customer services mobile app designed specifically for the legal sector. With the Process Flows feature, clients can view exactly where they are in the process and see what's coming next. There's also a handy client checklist, so they can see exactly what they need to action. Forms and questionnaires can be completed and signed electronically, and secure messaging allows for two-way communication between the client and conveyancer. InCase integrates into existing case management systems which means lawyers can provide a higher level of customer service with ease. The mobile app heavily reduces the number of calls clients make, as they feel informed throughout the entire process -not only improving the customer service but saving conveyancers a lot of time too! 
Clio- Best all-rounder for law firms
Clio is a specialist legal practice software provider, offering tools to clients across a range of practice areas, including civil litigation, commercial and family law. Among the company's products is its conveyancing software, a case management solution designed specifically for the property sector. The cloud-based portal has been created along the same lines as the firm's other tools, delivering a great interface and useful features for managing cases. It's also integrated with InfoTrack, making Land Registry searches quick and easy.
LAWFUSION- Best legal technology for homeworking capabilities
Another legal software company that works exclusively with legal practices, LAWFUSION offers conveyancing software that focuses on productivity and profitability. As such, the tool offers a wide range of functions, including commercial and business sales and leasing, quotes, time records and more. In Select's last latest client survey, 93% of respondents scored LAWFUSION positively for its homeworking capabilities, making this an ideal tool for law firms looking to move into hybrid or remote work.  
Exigent – Best contract management software
Exigent offers a range of legal software products, including its award-winning contract management tool. By making the most of AI solutions, Exigent is designed to help law firms to leverage their data and automate their processes. As a result, it's useful for legal practices that want to reduce their repetitive tasks and save time creating and managing contracts for their clients.  
Arctic Wolf – Best legal technology for security
Cybersecurity is a key focus for legal businesses, so Artic Wolf's legal practice cybersecurity tool can be a valuable tool to keep conveyancing clients' data safe. With many well-publicised cyber attacks on legal companies getting noticed by clients, it's never been more important for law firms to focus on their corporate security. Also, the rise in remote working for lawyers means that there are additional data protection concerns that law practices need to be aware of, particularly if their staff are accessing business software through public Wi-Fi networks or using personal devices. Artic Wolf offers 24/ 7 monitoring for cybersecurity risks and log retention of details of who accessed law firms' systems, making it easier for them to assess risks and reduce the chances of a cyber attack.  
Quill- Best legal accounts software
Quill offers a dedicated legal accounts tool for legal practices, and while it isn't dedicated specifically to the conveyancing market, it is a useful solution that is popular with many law firms. The solution works for legal cashiers, sole practitioners, accountants and compliance officers. Quill's solution is designed to help growing legal practices to manage their accounting, making it ideal for conveyancers and property law experts who are looking to scale up their businesses and support more clients.   
Choosing The Right Legal Software Solution for Your Conveyancing Practice
For conveyancers, finding the right legal software companies can be tough, as there are many factors to consider. Some of the key considerations you need to take into account are:
Function and features

Price and value

Interface and ease of use

Integration with online sources such as the UK Land Registry

The developer's property and legal market expertise

Additional tools, such as legal compliance and anti-money laundering capabilities
This article outlines some of the major legal software companies offering software for conveyancers and explains some of these factors in detail. The innovative companies outlined on this list will help you to manage your workload, increase productivity and ensure compliance.
By using tools like Veya, you can save time and effort so that you can provide a great service for your clients.
Veya is an innovative legal software company that makes title searching straightforward and provides unique Land Registry title insights to speed up client onboarding. For more information on Veya, how it can benefit your legal practice's conveyancing department and updates on the industry, check out these success stories and online resources. If you're interested in implementing our software in your conveyancing practice, then book a demo to see how Veya could work for your business.